3 BEST FINE-DINING RESTAURANTS IN HANOI FOR ROMANTIC DINNERS WITH YOUR LOVED ONES
Planning your date-night to surprise the better half? There is nothing more romantic than bonding over a beautifully prepared meal and a fine bottle of wine. As the capital city's cuisine scene is heating up, here is our guide to the 3 best fine-dining restaurants where stellar ambiance and extraordinary dishes are prepared for the most romantic dinners in Hanoi. Right this way, s'il vous plaît…

Tread in the footsteps of Charlie Chaplin, Graham Greene, Somerset Maugham and so many more artists of note. This legendary, multi-award winning French restaurant has its history and culture imprinted in its pillars, dark wood parquet floors, vaulted windows and stylish ceiling fans. The furnishings itself speak volumes of the restaurant's romantic past.
But what defines a romantic dinner better than French cuisine, the country renowned for love, passion and superb culinary skills. Being the first French restaurant ever opened in Hanoi, Le Beaulieu highlights stylish French gastronomie, serving up sublime signature dishes and an extensive selection of wines to pair with. Foie Gras Poêlé, Hokkaido Scallops, Dover Sole, aged Angus and Wagyu beef as well as Soufflé au Chocolat are some of the must-try delicacies on the a la carte menu. Do not forget that any bottle of wine from Le Beaulieu's wine cellar also holds great promise for a most romantic dining experiences.
Location: 15 Ngo Quyen, Trang Tien, Hoan Kiem, Hanoi
2. T.U.N.G DINING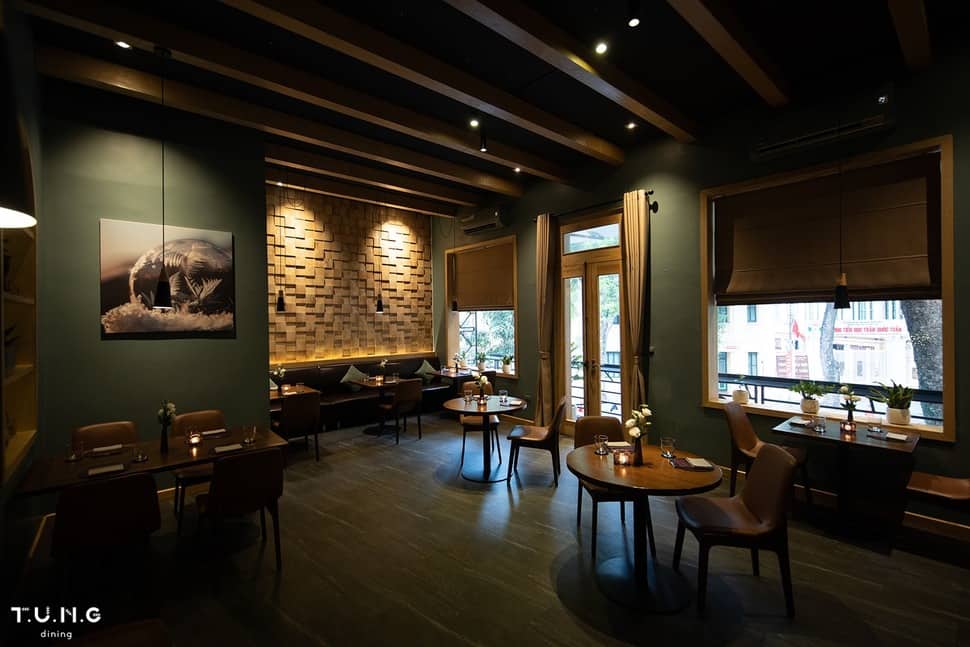 Embark on a contemporary culinary voyage with T.U.N.G Dining, where passion comes from the restaurant's vision and philosophy. Indeed, besides being the name of the head chef Hoang Tung, T.U.N.G also represents the restaurant's philosophy: Twisted, Unique, Natural, Gastronomique.
Bringing the philosophy to life is the restaurant's minimalist menu that splits up in 3 parts. There's no lunch at T.U.N.G Dining, only the eighteen-course set dinner that changes seasonally. Being the first and pioneer restaurant that introduces the Tasting Menu concept, the 33-seat Nordic restaurant has inspired and paved the way for many younger generations of Vietnamese chefs and restaurateurs. A dinner at T.U.N.G Dining is bold, playful and rightfully pays tribute to its namesake.
Location: 2C Quang Trung, Hang Trong, Hoan Kiem, Hanoi
Challenge your palate with eclectic choices as well as finding comfort in the familiar at angelina's table.
Despite being quite new to Vietnam's gastronomic scene, angelina du Metropole is an exciting modern culinary journey to be shared with those dearest to you. Though angelina is also a cocktail bar and whisky lounge, its new kitchen successfully fuses European and New World (think pan-European as well as American and Australian) recipes with seamless savoir-faire, offering innovative comfort food with a fresh twist.
Its menu reflects well-executed modern cuisine interpretations of classic comfort dishes with a focus on fresh seasonal produce. Here you can find Tuna Crudo Rice Cracker and Smoked Eel Bruschetta next to angelina signature Wagyu tomahawk and crushed Valrhona chocolate mousse. Who would know, angelina might be the missing element of surprise that will complete your romantic dining experience.
Location: 15 Ngo Quyen, Trang Tien, Hoan Kiem, Hanoi